About Us
Our mission at Southern Knights Senior Living Community is to create an environment where moments of joy, independence and wellness are the focus of each and every day for our residents and staff alike. Making every moment matter for our residents is our passion. Whether it is pursuing new interests or continuing favorite pastimes, our special staff is prepared to support residents so they feel successful and productive, enjoying as much independence as possible.
Southern Knights Senior Living Community is a 37 assisted living suite, 13 independent living cottages, and 24 memory care bed community, providing senior care to the residents of the Tomball area since 1998. Our RN is on site twice a week and our community is located only 2 blocks away from Tomball Regional Hospital and medical complex, which is home to many outstanding specialty and geriatric physicians.
Southern Knights Senior Living Community is part of the Ridgeline Management Company family. All Ridgeline communities are part of a greater network of independent, assisted living, and memory care communities across the United States. Each Ridgeline community shares the same values, philosophy, and mission yet retains its own individual personality and local mindset.
We believe in finding the best methods and people to serve our seniors—wherever they may come from. That is why Ridgeline and its communities create opportunities to share and learn from each other's experiences; to constantly improve the senior services we bring to you, our customer. Every community works together to fulfill our mission.
Our History:
The mother of Southern Knight's original owner, Wanetta Knight Wilson's family name was the inspiration for our community's name. The Knight family portrait from the 1900's still hangs in the foyer, above our fireplace. The Howe family built the community for "Ms. Nita", as she was called, who became a surrogate mother and grandmother for many of the staff. She was a retired hair salon owner/operator and in the early days often filled in as stylist for the other residents. Ms. Nita's beloved antiques still adorn our building along side others donated by past resident family members. Ms. Nita was a resident of Southern Knights for 13 years and is deeply missed by many of us here.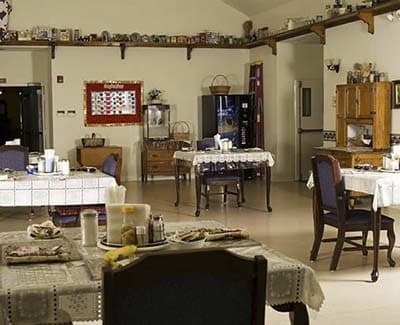 Benefits of being a Ridgeline community include:
Programming like no other in the industry such as our signature Balance Fitness©, senior-directed living, and nutrition programs
Decades of combined senior housing experience and knowledge brought to our seniors and families
Operational systems approved and acclaimed by multiple state agencies across the country
An extremely accessible and hands-on management team